About Us
The kitchen team at Attico infuses the illustrious traditions of Northern Italian cuisine with the world-class natural produce of local Irish farms and Italian food producers, to create a gastronomic experience like no other. This fusion of elements makes Attico one of the most exciting and best Italian restaurants in Dublin.
Browse the menu on the JUST EAT app and order food for delivery while you put your feet up with a nice glass of wine and dream about being on the Amalfi coast. Then after you have eaten, we would love to hear what you think of our food and service by leaving feedback on the JUST EAT Site.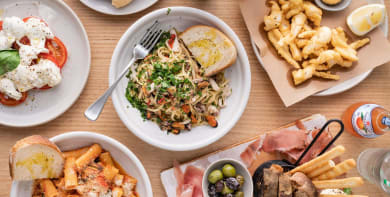 Reviews
damian
"will order form attico again soon!"
18/04/2021
Ryan
"Best Italian I have had I like to try new places every week and this is the first to get all 5 stars u can tell it's fresh food top bins lads"
28/03/2021
Sam
"Loved my food tonight. Buffalo Mozzarella salad and then seafood risotto. Very tasty"
26/03/2021
Donal
"Good food, delivered exactly on time. What's not to love?"
14/03/2021
Menu
Contact Us
Find Us
Monkstown Crescent, Dublin, MONKSTOWN
Opening Hours
Please note, delivery times may vary.
We deliver to
Ballsbridge, Ballybrack, Ballybrack (Dublin), Belfield, Blackrock, Blackrockbooterstown, Blackrockcarysfort, Blackrockcentral, Blackrockglenomena, Blackrockmonkstown, Blackrocknewpark, Blackrockseapoint, Blackrockstradbrook, Blackrocktemplehill, Blackrockwilliamstown, Booterstown, Brennanstown Road, Cabinteely, Cabinteelygranitefield, Cabinteelykilbogget, Cabinteelyloughlinstown, Cabinteelypottery, Carrickmines, Cherrywood, Clonskeagh, Clonskeaghbelfield, Clonskeaghroebuck, Cornelscourt, Dalkey, Dalkey Hill, Dalkey Upper, Dalkeyavondale, Dalkeybullock, Dalkeycoliemore, Deansgrange, Donnybrook (Dublin), Dublin 2, Dun Laoghaire, Dun Laoghaire Sallynoggin, Dun Laoghaireeast Central, Dun Laoghaireglasthule, Dun Laoghaireglenageary, Dun Laoghairemonkstown Farm, Dun Laoghairemount Town, Dun Laoghairesalthill, Dun Laoghairesandycove, Dun Laoghairewest Central, Dundrum, Dundrumbalally, Dundrumkilmacud, Foxrock, Foxrockbeechpark, Foxrockcarrickmines, Foxrockdeansgrange, Foxrocktorquay, Galloping Green, Glasthule, Glenageary, Glencullen, Goatstown, Irish Town, Johnstown (Dublin), Kill Of The Grange, Killiney, Kilmacud, Kilternan, Leopardstown, Loughlinstown, Monkstown, Mount Merrion, Pembroke, Ringsend, Roseville, Sallynoggin, Sandycove, Sandyford, Sandymount, Shankill, Shankillrathsallagh, Stepaside, Stillorgan, Stillorgandeerpark, Stillorgankilmacud, Stillorganleopardstown, Stillorganmerville, Stillorganmount Merrion, Stillorganpriory, Ticknock